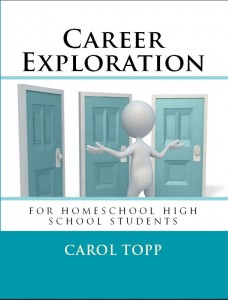 Thank you for your interest in using Career Exploration for Homeschool High School Students and helping teenagers choose a career and college major.
I offer a discount to groups and co-op classes.
Paperback books
Under 5 copies: full retail price $12.95
5-10 copies: 10% discount: $11.66 each
11-20 copies: 20% discount: $10.36 each
20+ copies: 25% discount: $9.71 each
Electronic books (pdf format)
License to print up to 10 copies: $40.00
License to print 11-20 copies: $75.00
License to print 21-50 copies: $125.00
To request a license agreement use the order form below.
Shipping: Standard shipping via USPS, UPS or FedEx will be added to the product purchase. Shipping does not apply to the ebook licenses). Expedited shipping is available is available upon request.
Method of payment: For paperback books you can choose either
for a discount code to be emailed to you (and you place your own order) or
to be emailed an invoice and pay Carol Topp directly via check, money order, Paypal, or electronic check. Invoiced orders must be pre-paid.
Ordering:
Use this form to request a discount on a group order of the Career Exploration book
Thank you!
Carol Topp, author and publisher