The Curriculum
The Micro Business for Teens Curriculum is comprised of two books and a workbook
Starting a Micro Business
Advice to get a teenager started in launching a micro business. Includes ideas, how to create a business plan, avoiding pitfalls, starting with little or no money, and stories of teenage micro business owners. Read more here
Price $9.95 Order here
Running a Micro Business will help teenagers manage a small business while keeping up with homework, sports, family and friends. This book follows Starting a Micro Business and discusses sales, customers service, marketing, record keeping, legal issues and time management. Read more here…
$9.95 Order here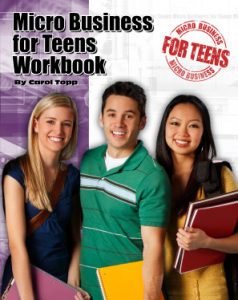 Micro Business for Teens Workbook
The Micro Business for Teens Workbook accompanies Starting a Micro Business and Running a Micro Business to help teenagers put into place what they read. The workbook is designed to be used individually or in a group setting. Read more here…
$14.95 Order here
Frequently  Asked Questions:
Is there a Teachers Guide to accompany the books?
The Micro Business for Teens books are designed to be self-teaching, but many teachers use the curriculum in a group setting. There is a free Teachers Guide available as a pdf download. See the Teacher Resources tab
Can my students share the books?
Each student should have their own set of books. A family can share the Starting and Running books among family members, but each student should have their own Workbook.
Can I make multiple copies from the ebooks?
The ebooks books are protected by copyright, so you many not print multiple copies. You have the right to print out one copy of the pdf Workbook. For group use, licenses to print multiple copies of the Workbook is available. Please email me with for a license and include the number of copies you would like permission to print.
Save