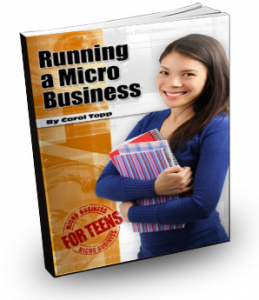 You have a great idea and started your own business! Good for you! That's more than most teenagers ever attempt.
But now you realize you have a lot to learn!
Need help?
Here's a few things you might need to learn more about:
time management
customer serve
how to overcome shyness
bookkeeping to track your income and expenses
how to express yourself
confidence
marketing
My book Running a  Micro Business for Teens will help you run a successful micro business.
Paperback from Amazon $9.95
Amazon Kindle $4.95
Ebook on pdf format $4.95
Table of Contents
Chapter One: Sales
Your Sales Statement
Selling in Person
Your Sales Presentation
Making the Sale
Getting Paid in Person
Selling Online
Getting Paid Online
Describe Your Customer
Reaching Your Local Market
Reaching a Distant Market
Progress Step by Step
Make a Marketing Plan
Chapter Three: Customer Service
Serving Customers is Good for Business
What to Charge
Tips and Secrets of Customer Service
Chapter Four: Record Keeping
What Records to Keep
Record Transactions
Keep Supporting Documents
Keep Official Letters
How to Record Your Start Up Expenses
Record Purchases of Equipment
Chapter Five: Bookkeeping Basics
A Simple Bookkeeping Method
What to Do and When
Daily, Monthly, Quarterly, Annually
Should You Learn Bookkeeping or Accounting?
Hire Help If You Need It
Chapter Six: Using Software
Personal Money Management Software
Small Business Accounting Software
Recommendation
Chapter Seven: Legal Names and Numbers
Does a Micro Business Need a Name?
When is a Business License Needed?
Should a Micro Business be a Sole Proprietorship?
Should a Teenager Start Business With a Friend?
When Is a Tax ID Number Needed?
Chapter Eight: Reducing Risk
Is Insurance Needed?
What's an LLC?
Chapter Nine: Time Management
Goal Setting
To Do Lists
Time Management
What if You Cannot Get it All Done?
Reviews
My two oldest kids and I have read through your micro business books and began an Entrepreneurs Club with we three as members. We are meeting weekly to talk about the progress we make, what we plan on doing the next week, and help each other as needed. Thanks for writing such a realistic and clear guide for kids wanting a business. -Parent of teenagers
Carol Topp, author and CPA, packs her years of experience into a full curriculum that will equip your student with all the information they need. Packed full of real examples of successful teen businesses alongside doable, practical advice, each book is a resource your child will turn to time and time again.
From figuring out where to start, developing a marketing plan, record keeping, and time management, each book walks students step by step in simple, clear teachings. The ideal instruction manual for a young entrepreneur in the making.
I purchased the entire set (Starting a Micro Business, Running a Micro Business, and Money and Taxes in a Micro Business) for my 15yo daughter. All of the books have been extremely helpful to us. The information is clear and helpful and is not boring for a teen to read. We are using it as part of our homeschool curriculum. It's wonderful to have this resource available for teens!
The lessons learned from running a small business are myriad. Teens who become business owners can combine education with real life experience and reap rich rewards for their efforts! Carol Topp's Micro Business series provides step-by-step instructions, practical tips, and other helpful information. Her conversational tone makes each book in the series easy to read and understand. Teens who apply her instruction will be well-equipped to navigate the challenges of starting and running their own entrepreneurial endeavors.
Save
Save
Save