Book Reviews
Amazon Reviews
I LOVE the book and highly recommend it in preparing young people to earn money in so many ways that produces good work ethics. Carol encourages teens to work hard and how to go about having good business skills. -Amazon review 5 stars
If your teenager wants to earn money and is too young to work at McDonalds, then this is the book to consider for him/her. It will help them with everything, including the all important keeping track of what you earn and reporting it as income tax (if applicable). It will teach teenagers (and adults) all the business aspects for the ins and outs of running a successful business from home.
With plenty of true life stories and spaces to write out your information, this book will be invaluable for your teen–and you. – Amazon reviewer 4 stars
This book personally resonated with me because it also speaks to a higher aspirational goal of a partnership between parents and their kids. The parents allow the kids to "try" while the teens are inspired to add the "umph" – referencing the quote at the top of this post. The fact that this type of partnership was lacking in my own life is one of the reasons why I can relate to the need for this book.
Because that type of collaborative approach is an invaluable lesson to teach any teenager since they're going to apply it in virtually any profession or project they pursue in life. Topp's book is tops in that regard! – Amazon reviewer 5 stars
Finally a book available for teens somewhere in between a lemonade stand and a storefront. No doubt the entire series will be a welcome resource if it also teaches, exhorts and encourages youth as did Starting a Micro Business. Every teen parent would benefit from reading Starting a Micro Business. I enjoyed it immensely and hope to read more of the Micro Business for Teens book series soon. -Amazon reviewer 5 starts
From Students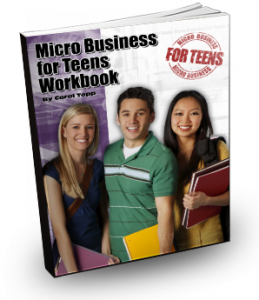 A must read for teens with a desire to earn money on their own. Wonderfully organized book makes for easy reading and comprehension. The content of these books will help to make a business easier to run and, with dedication to the principles, more successful. As a small business owner, I highly recommend the Micro Business for Teens books to any young person with entrepreneurial drive or just wants to learn how business works. Accompanying workbook enables the books' concepts to be solidified in your mind, yet are fun and interesting.-Lucas Rice, owner of Living Tree, LLC, a lawn care micro business he started at age 15.
Carol Topp's books not only helped me launch a successful micro business, but gave me the ability to run my business in an organized, professional manner. She has a simple, instructive, helpful writing style that is easy to understand and execute. The books have helped me accomplish one of the greatest goal I could ever achieve. – Jade B., age 16
These books have helped me to understand different aspects of business that I didn't know before. I would suggest these books for all teenagers looking to start there own business, because this will help them to spend their money and time wisely so they can be a success. Canon B., age 13
The book was amazing! With it I am making double minimum wage and I'm not even old enough to work at McDonald's or Kroger! The book has taught me that I don't have to be 15 to have a job! Starting a Micro Business for Teens has taught me how to manage my time and money wisely between my business, school, and other activities. Ethan E., age 14
Workshop Reviews
Thank you very much for presenting Micro Business for Teens at the West Chester Library!  It was a huge success, not only based on the vast number of participants, but from the feedback I received as well.  Whenever I was able to pop into the program, it seemed like the teens were involved and participating in the discussions (which can be a challenge sometimes!) and everyone appreciated your workbook you handed out as well.  With jobs for teens being far and few between, this program comes at a perfect time to teach them how to start their own businesses.  Your class material is something adults could learn a lot from as well, and that is why many of the parents told me they stayed during the program.

Amy Kleman
Librarian, MidPointe Library West Chester, Ohio
(from parents or teenagers)
She talked to students on their level
It was informative and helped me get oriented for starting a micro business.
She related to us with stories of her daughter, but didn't try to be one of us.
Clear, concise and organized
I have teen boys who wanted this info!
Spoke on an easy to understand level
It had a lot of good information. Learned a lot.
Very easy to understand. No financial speech!
I've been in business for 20 years and learned some things about a micro business.
It gave me lots of good things to think about.
She covered all my questions and answered so much more.
Class Reviews (from my students)
This class has helped me learn how to run and start my business. The examples are great and real and it is somewhat fun and is great if you're starting a micro business. This review has been done by a real teenage boy. -Austin S., age 16
It helped me get the right idea to start my business and it allowed me to stay on track. -Seth W., age 13
This was a really cool class and I learned a lot. The books were very good to use. -Jacob P., age 15
This class was very helpful for me. I'm glad I was a part of it. Mrs. Topp rocks 🙂 -Abigail H., age 15