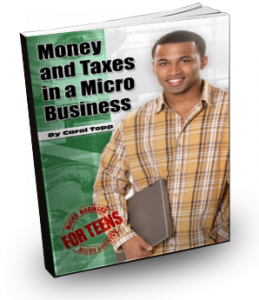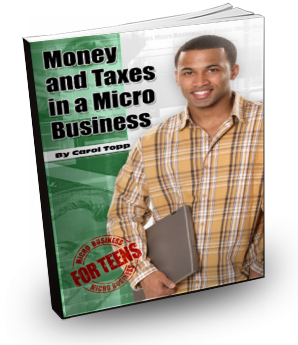 After you have started a micro business and run it for a while, you may wonder…
How can I make more money?
Have I made a profit?
Do I owe any taxes on my profits?
How can I reduce my taxes?
How can I measure my success?
How can I plan to stay in business?
How can I avoid failure?
This third book in the Micro Business for Teens series, Money and Taxes in a Micro Business,  will help you answer all those questions.
Paperback from Amazon $9.95
Amazon Kindle $4.95
Ebook in pdf format $4.95
Table of Contents
Chapter One: How Successful Are You? Your Income Statement
Income Statement
Parts of an Income Statement
Sample Income Statement
How to Prepare an Income Statement
Balance Sheet
Sample Balance Sheet
Who Needs a Balance Sheet?
Other Financial Statements
Did You Make a Profit?
Chapter Two: Can You Stay in Business? The Cash Flow Worksheet
A Cash Flow Worksheet
Sample Cash Flow Worksheet
How to Use a Cash Flow Worksheet
What to Do If Cash Flow Is Negative
Learn From Your Mistakes
Chapter Three: Making More Profit
Motivation
How To Make More Money
Increase Sales
Decrease Expenses
Chapter Four: Measuring Success: Financial Ratios
Ratios from an Income Statement
Example of Using Financial Ratios
How Ratios Help Your Micro Business
Goal Setting with Ratios
Chapter Five: Federal Taxes
Federal Income Tax for Business Owners
When Does a Teenager Owe Income Tax?
When Does a Teenager File a Tax Return?
Legitimate and Legal Tax Deductions
Chapter Six: Who Are You? IRS Classifications of Teenage Workers
Employee or Independent Contractor?
Household Employee
Independent Contractor Status
Worker Misclassification
Chapter Seven: More Taxes: State and Employer Taxes
State and Local Income Tax
Employer Taxes
Checklist For Hiring Employees
Social Security and Medicare Taxes
Unemployment Taxes
Workers' Compensation
Employer Forms
Chapter Eight: Sales Tax
How sales tax works
State Requirements
Consult with a Local CPA
Obtain a Vendor's License
Out of State Sales
Internet Based Sales
Paying the Sales Tax
Chapter Nine: Hiring Help: Employees and Independent Contractors
Alternatives to Hiring Employees
Two Categories of Workers
Worker Classification: A Critical Issue
How to Determine Worker Status
Can't Decide? Let the IRS Help
Forms for Independent Contractors
Chapter Ten: Working With an Accountant
What a CPA Can Do For You?
How Much Do CPAs Charge?
Questions to Ask an Accountant
CPAs Speak IRS-ese
Reviews
"Phew. Daunting topic and a scary book to tackle. But I'm so glad I did. None of my college business classes covered taxes, and my dad (who's an accountant) has made it quite clear that he is uninterested in helping another person (me) with their taxes. Yikes! I don't have it all figured out yet, but this book was soooo helpful! Now I know the basics on how to keep records, file tax returns, calculate deductibles, and a lot more. And I also know where to find the rest of the state-specific information I need. I'd recommend this to any small business owner, freelance writer, or odd-job doing, even if your not a teen." Leah Good's review on Goodreads.com

"My two oldest kids and I have read through your micro business books and began an Entrepreneurs Club with we three as members. We are meeting weekly to talk about the progress we make, what we plan on doing the next week, and help each other as needed. Thanks for writing such a realistic and clear guide for kids wanting a business" -Parent of teenagers
"I believe that Carol Topp's book, Micro Business for Teens, is a great resource to help a teenager to learn about business and to ultimately start their own business. I found this book to be a quick read yet it is still very thorough. I strongly recommend this book and its very practical, doable approach to any aspiring young entrepreneur. I think it is provides teens a great first step into the entrepreneurial world."
-Michael P. Licata, Ph.D, Accounting Professor VillanovaUniversity
Carol Topp's books not only helped me launch a successful micro business, but gave me the ability to run my business in an organized,professional manner. She has a simple, instructive, helpful writing style that is easy to understand and execute. The books have helped me accomplish one of the greatest goal I could ever achieve.-Jade Black., age 16
A must read for teens with a desire to earn money on their own.The content of these books will help to make a business easier to run and, with dedication to the principles, more successful. As a small business owner, I highly recommend the Micro Business for Teens books to any young person with entrepreneurial drive or just wants to learn how business works. -Lucas Rice, owner of Living Tree, LLC, a lawncare micro business he started at age 15.
Save
Save
Save