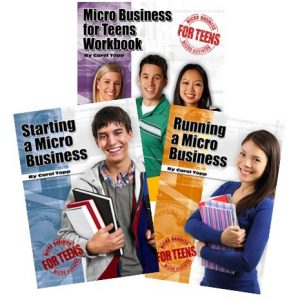 Welcome teachers!
Whether you're a public, private, homeschool or community teacher, Micro Business for Teens is flexible enough to use in many situations.
Teacher Resources
How to Use Micro Business For Teens in Your Classroom
Teachers Guide A 40 page guide with lesson plans and discussion questions.
View Starting a Micro Business on You Tube (approximately 60 minutes). This public television-produced video features 6 students and their parents talking about their micro business. It's a great motivation to use as a kick off for your class.
Save
Save
Save