10 Micro Tips for Micro Businesses
Countdown to Starting a Micro Business ebook launch
Day 2: 9 days until the release of Starting a Micro Business ebook by Carol Topp, CPA
on
Saturday, May 1, 2010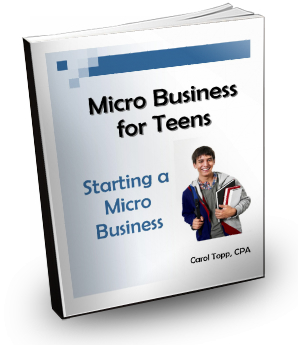 As we count down to the launch of Starting a Micro Business, I am going to share tips on starting a micro business.
Today's tip: Find a need and meet it
Micro businesses are simple businesses that can be started very quickly. What do you need to start a micro business? Your need only two things:
A product or service that meets a need
Someone to buy it
That's it. Two things: see a need you can meet and find someone to pay you for your help.
Sarah volunteered for a great nonprofit organization by giving swimming lessons to children in the summer. The adults running the swimming lessons were wonderful and really knew how to teach swimming, but they didn't know how to set up a blog or a website. Sarah knew she could help in this area. She saw a need, talked to the nonprofit leader and found herself in business! It can be that easy to start!
To start a new micro business think a a need and who will buy it.
Here's a need I see that I can meet:_______________________
Here's who will buy it:_____________________________
Want more ideas on a finding a need that a teenager can help meet?  Read the posts under True Stories   
Be sure to visit MicroBusinessForTeens.com on Saturday, May 1, 2010 to order your copy of Starting a Micro Business.
For one week, May 3-10, 2010, I will be offering a special bundle package. For the price of the ebook , $9.95, you will also receive a copy of my Teens and Taxes: A Guide for Parents and Teenagers ebook and my audio Starting a Micro Business. This offer is only good for one week. It expires Monday May 10.
Carol Topp, CPA
https://MicroBusinessForTeens.com