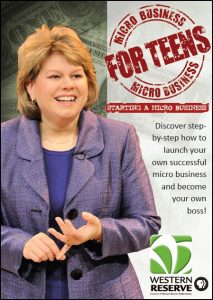 I am thrilled to announce that the PBS-produced program Micro Business for Teens: Starting a Micro Business will be distributed to PBS stations across the country via the National Educational Telecommunications Association (NETA) beginning June 5, 2013.
Now more teenagers will be encouraged to start their own micro business!
Micro Business for Teens: Starting a Micro Business explains what a micro business is, gives examples of businesses suitable for teenagers, offers instruction on writing a business plan and financing the business and more. You'll meet six teens who are already operating profitable micro businesses by following the guidance of Carol Topp.
This program makes the very notion of creating a micro business an achievable goal if you have a good idea and the enthusiasm to design and implement a plan of action. While the program is targeted to a teen audience, its content will be helpful to any adult interested in starting his or her own micro business.
The program was produced by Western Reserve Public Media with sponsorship from:
The Burton D Morgan Foundation
Dominion Foundation
The Veale Foundation
The Fred A Lennon Charitable Trust
Hudson Extrusions, Inc.
Deluxe Corporation Foundation
Ohio Small Business Development Centers
Jobs for Ohio's Graduates
If you sign up for my email list, you'll be hearing more about when the show will be broadcast on your local PBS station.
Carol Topp