If you have a sweet tooth, but are looking for a better option, look no further than 15-year-old Nicky Bronner. After Nicky's parents threw out his halloween candy one year, Nicky started researching candy to show his parents that candy was okay. What he found was just the opposite. And this got Nicky thinking. Could he come up with a healthier alternative to candy, one that satisfied a sweet tooth, but without the ensuing health problems. After a bit of research, Nicky (along with his angel investor father, Michael Bronner) dreamt up Unreal Brands Inc., candy and sweets that contain only natural ingredients. His father put him in touch with investors and executives who might be interested in the product. He spent time designing the candy's packaging and worked with chefs to create the product and marketers to find its niche. After this hard work, Nicky's idea will become a reality. His product is set to enter stores like Target and Kroger soon. Nicky's love of candy has set him up to own a pretty successful micro business. That's sweet!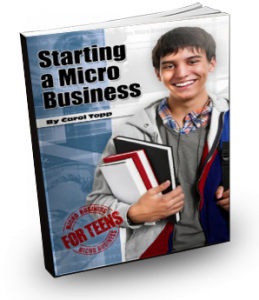 Courtesy of Wall Street Journal
It looks like Nicky is well on his way to a great micro business. While he had a great advantage with a father in investments, you can follow in his footsteps too! Any idea can become a reality. Tap into your network – the people you know. Who knows? One of them may know someone who would be willing to invest in your micro business. Before you start looking for these investors, take a peek at my book, Starting a Micro Business, to make sure you have all the pieces of your micro business in place!
Carol Topp, CPA