Think your micro business could never make it against so many competitors? Take a look at this story!
18-year-old Callum Troup wasn't afraid of international competitors like Starbucks when he decided to set up his own coffee shop in Sunderland. He calls his micro business, Coffee Corner. And it is taking off!
Callum finished his first year, so successful that he has needed to hire his first employee. But his business doesn't just stop there. Callum plans to open a cafe shortly, as well as craft his own handmade coffee for his business.
Even though Callum had great support through his mother who also runs her own business, what is the secret to his success? Callum loves the hard work! It seems he is well on his way to creating his dream.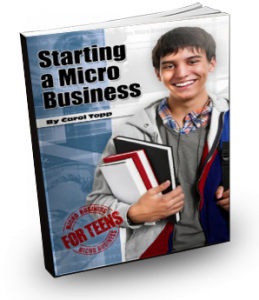 Courtesy of The Northern Echo
Any business owner will agree that running your own business is work, hard work. But it can pay off, just like Callum's business!
Teens, prepare to put in long hours and expend a great amount of energy when first setting up your micro business. But the satisfaction of running this business will be worth the sweat!
My book, Starting a Micro Business, will help you accomplish just that!
Carol Topp, CPA