Not many teens are responsible for running village-wide festivities. But that's not the case for Whalley, UK teen Charlie Bolton! An aspiring entrepreneur since his youth, Charlie dreamed up the idea to revitalize the area surrounding his hometown with a local, monthly food and crafts fair called Let's Get Crafty. This fair features the best his area has to offer. It boasts around 50 booths ranging anywhere from glassware to baked goods, each made exclusively by local craftspeople. Charlie even has a booth featuring his own micro business, Crafts by Charlie, where he sells bath and body products. Let's Get Crafty is in its third month of operation and so well received by locals that Charlie is planning to expand the fair into a local market. Charlie's idea to bring people from all over the UK to Whalley has resulted in a successful micro business. Congrats, Charlie!
Courtesy of The Clitheroe Advertiser and Times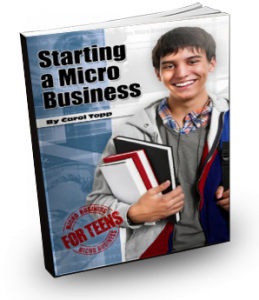 Teens, are you a whiz at event planning? This is essentially Charlie's micro business! He organizes local vendors at a central location to sell their product, and sells some of his own as well. It's a great idea! And you can do it too. Would your town like a food and crafts fair? There are probably several business owners who would like to participate. Or maybe it already has one; you could sell your products from your micro business there. My book, Starting a Micro Business, is here to help! Take a look for ways to get your micro business up and running!
Carol Topp, CPA