Little did Damian Brown know that the handmade paper flowers his grandfather taught him to fashion would one day become a micro business. But it did! As a teenager, Damian learned how to craft these flowers and sold them on the streets of his native Charleston, SC after obtaining the necessary permits. But demand has increased for his unique creations. Now, Damian fills orders for weddings and nationwide events. Now a high school graduate, he plans to take his micro business with him to college, completing orders from his dorm. With his one-of-a-kind business, Damian took a talent and fashioned not only beautiful flowers, but a flourishing micro business!
Courtesy of The Post and Courier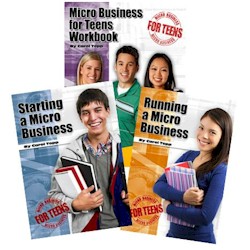 Damian recognized his talent could earn him some extra money. Is there something that you can do, make, or create? Something that is unique to you? Turn it into a micro business! Inside the pages of my book series, the Micro Business for Teens Curriculum, you can find just how to make this happen.
Carol Topp, CPA