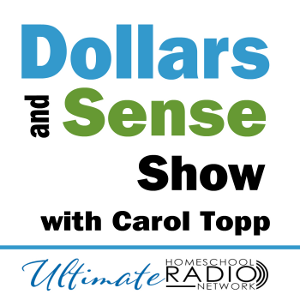 Carol Topp, author of the Micro Business for Teens book series, has a podcast called the Dollars and Sense Show , part of the Ultimate Homeschool Radio Network.
You can listen to the podcast online, download to your iPod or MP3 player, or subscribe via iTunes.
Don't Miss an Episode! Subscribe Below:
Using something else? Copy this address:
––– https://feeds.feedblitz.com/dollars-sense –––
Just getting started? We recommend starting with these episodes:
Click each image to be directed to the podcast page. Each podcast has show notes  to accompany the podcast.
Here is a list of podcast episodes: