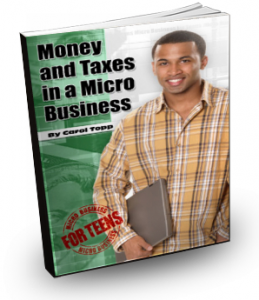 Thank you for ordering Money and Taxes in a Micro Business ebook. I know it will be very helpful to you in launching and running your micro business.
Reminder: Your credit card statement will read "CLICKBANK*COM." I use a service called Clickbank to process orders.
How to get your ebook:
Click the link below to download your ebook. You will need Adobe Reader. If you do not have Adobe Reader, it is available for a free download at get.adobe.com/reader

Save the file (a pdf file) onto your computer so that you may read it at a later time.

I recommend that you print out the entire book  (77 pages)and store it in a binder. You'll want to keep it near for quick reference.
If you have technical difficulties with your purchase, please e-mail me at TechProblems@MicroBusinessForTeens.com
Your next step:
You will learn a lot by reading my ebook and then from the experience of running your micro business. Don't ever stop learning.
I wish you the best of success!
Carol Topp, CPA