In the video below author Rachel Coker shares with you her experience as the first teenager to be published by Zondervan. Hear her story and the pros and cons that come with traditional publishing.
Mentioned in the video are some of the advantages to having a traditional publisher including:
The reputation of being published with a major publisher
The resources available to you and your book to make it shine. Including: a book editor, a book designer, interior formatting, etc.
Also mentioned are some tips when publishing traditionally:
Use an agent
Network and go to writers conferences
Be patient
Good choice if you have a wide audience
Finally, there are the cons of publishing with a traditional publisher mentioned in the video:
Having to write a book proposal query
Finding an agent
Waiting for the publisher to get back to you
Marketing your book on your own
Working around the publisher's schedule
Watch the video:
Get a free report!
Sign up for my newsletter and I will send you my report, New Biz on the Block: Starting a Micro Business in Your Neighborhood.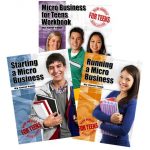 For more information about how to start your own micro business check out the books, 
Micro Business For Teens
, available at: 
MicroBusinessForTeens.com
,
 Amazon.com
, and
other retailers listed here
.
Carol Topp, CPA