This is horrible news:
Study: 15 percent of US youth out of school, work
WASHINGTON (AP) — Almost 6 million young people are neither in school nor working, according to a study released Monday.
That's almost 15 percent of those aged 16 to 24 who have neither desk nor job, according to The Opportunity Nation coalition, which wrote the report.
Other studies have shown that idle young adults are missing out on a window to build skills they will need later in life or use the knowledge they acquired in college. Without those experiences, they are less likely to command higher salaries and more likely to be an economic drain on their communities. Source: https://bigstory.ap.org/article/study-15-percent-us-youth-out-school-work-0
Fortunately, I have a solution: start a micro business
That's what this website is all about and here's how to get started:
1. Watch my PBS television show on Youtube
2. Visit my Pinterest page or idea blog posts to get an idea for your micro business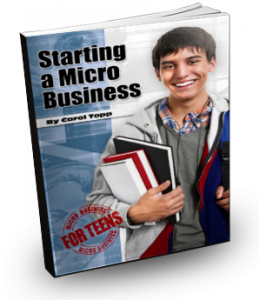 3. Buy my book Starting a Micro Business and write a business plan
4. Start making money and learning a lot!
5. Email us your story
I've been traveling around the country this year speaking to teachers and youth leaders about teen unemployment and how starting a micro business can help give teenagers the skills they need for life and earn some money to support their family or fund their education.
Next, I'll be speaking in Cleveland, Ohio on November 16-18 at the Consortium for Entrepreneurship Education Forum. My topic: "No Job? No Problem: Micro Business for Teens."
Carol Topp