Hart Main, a teenager from Ohio, had a neat idea for his micro business: man-scented candles!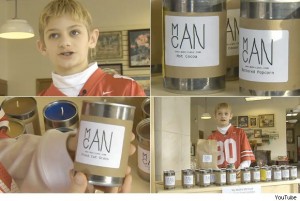 "My sister was selling candles for school, and I was kind of making fun of her because they were really girly scents, and the idea came to me to make man-scented candles 'cause nobody was doing that," Hart says.
He used $100 from his savings to start his business called ManCans. He makes the candles at home when he's not in school.
He's all about "being green." His candles come in recycled cans and feature labels made of recycled paper.
The candles sell for $8.00 and come in different scents such as:
New York Style Pizza: Straight out of the oven.
Money to Burn: Use your tax refund to buy a candle.
Gear Head: Smells like the auto garage.
Cracker Jacks: A prize for your nose in every can.
Coffee: Men don't go to coffee houses, men go to ManCans.
Bacon: Bacon, Bacon, Bacon, Bacon… I smell Bacon.
Bubble Gum: Just like opening the pack of Topps baseball cards.
Grandpa's Pipe: A fresh tobacco blend just like grandpa smoked.
Sawdust: A light cedar smell.
I love Hart's micro business idea and wish him great success!
Carol Topp, CPA