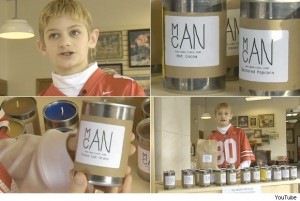 When Hart Main was a teenager he had a neat idea for his micro business: man-scented candles!
"My sister was selling candles for school, and I was kind of making fun of her because they were really girly scents, and the idea came to me to make man-scented candles 'cause nobody was doing that," Hart says.
He used $100 from his savings to start his business called ManCans. He makes the candles at home when he's not in school.
He's all about "being green." His candles come in recycled soup can and feature labels made of recycled paper.
The candles sell for $9.50 and came in different scents such as:
New York Style Pizza: Straight out of the oven.
Hot Cocoa
Campfire
Coffee
Bacon
Freshly mowed grass
Grandpa's Pipe
Sawdust
I love Hart's micro business idea and wish him great success! He's now in college studying Economics.
Man-Cans are now sold by the Beaver Creek Candle company
Need an idea for a micro business? My book Starting a Micro Business can help.
Carol Topp, CPA is the author of the Micro Business for Teens books.
Save
Save
Save