10 Micro Tips for Micro Businesses
Countdown to Starting a Micro Business ebook launch
Day 6: 4 days until the release of Starting a Micro Business ebook by Carol Topp, CPA
on
Saturday, May 1, 2010
As we count down to the launch of Starting a Micro Business, I am going to share tips on starting a micro business.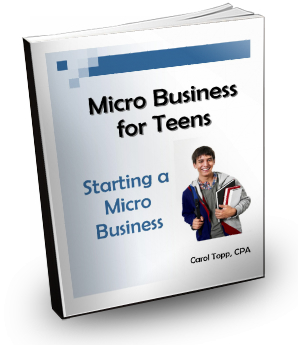 Today's tip: Create a plan
After you have an idea for you micro business, you should make a plan on paper to help you anticipate anything that might go wrong. By thinking through issues like who will buy your product and to reach them, you will save time, your money and avoid frustration.
A business plan can be kept short and simple for most micro businesses.
A simple business plan should have three main sections
Business Plan Sections
1. Business Concept
Description of the product or service
Description of the industry
How to measure success
2. Marketing Plan
Potential customers
The competition
How will you be unique?
3. Financial Plan
Cost of your product or service
Price you will charge customers
Break even analysis
Starting a Micro Business will walk you through each of these sections and help you plan a successful micro business.
Visit MicroBusinessForTeens.com on Saturday, May 1, 2010 to order your copy of Starting a Micro Business.
For one week, May 3-10, 2010, I will be offering a special bundle package. For the price of the ebook , $9.95, you will also receive a copy of my Teens and Taxes: A Guide for Parents and Teenagers ebook and my audio Starting a Micro Business. This offer is only good for one week. It expires Monday May 10.
Carol Topp, CPA
https://MicroBusinessForTeens.com