From a reviewer on Amazon.com
Economic "Self Reliance" for Your Teenager, April 12, 2011
"The difference between try and triumph is a little umph." ~ Anonymous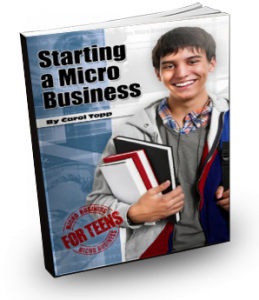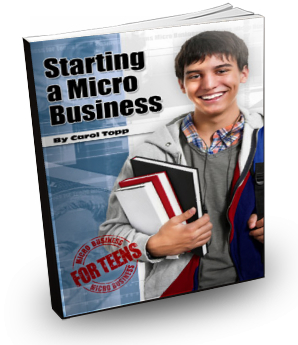 I didn't have a lot of disposable cash as a teenager growing up simply because my parents both had lower middle class jobs and five kids to support. To further confound the problem, my parents forbid me from having a paper route because they didn't want to end up having to deliver the papers themselves which is understandable.
So I was generally unemployed until I was 16 and had my driving permit. The ability to drive enabled me to work three evenings a week at a restaurant 15 miles from my home. After that, I've had a job ever since.
Back then, I would have welcomed Carol Topp's book Starting a Micro Business. Topp takes the time to explain the micro-business concept – basically a no-cost, one-person operation using the owner's knowledge and "sweat equity" – and she applies that concept to a teenager. She provides a great deal of insight, tactics and planning tools to ensure the maximum chance of success for the student entrepreneur.
This book personally resonated with me because it also speaks to a higher aspirational goal of a partnership between parents and their kids. The parents allow the kids to "try" while the teens are inspired to add the "umph" – referencing the quote at the top of this post. The fact that this type of partnership was lacking in my own life is one of the reasons why I can relate to the need for this book.
Because that type of collaborative approach is an invaluable lesson to teach any teenager since they're going to apply it in virtually any profession or project they pursue in life. Topp's book is tops in that regard!
5.0 out of 5 stars Economic "Self Reliance" for Your Teenager, April 12, 2011
By
Tor
(Clarksburg, Moldova, Republic of)
This review is from: Starting a Micro Business (Paperback)