I'm looking forward to seeing some of you this Thursday, Friday, and Saturday (March 31-April 2, 2011) at the Midwest Homeschool Conference at the Duke Energy Center in Cincinnati, Ohio (my hometown!)
I'll be doing a workshop on Micro Business for Teens on Saturday at 11:30 am in the MILLENNIUM Hotel Pavilion room (you'll have to walk to the hotel connected to the convention center)
The workshop covers the basics starting and running a micro business and is geared toward teenagers. I will show why a micro business is great for a teenager, share ideas, explain the business basics like taxes and record keeping. Teenagers interested earning money and their parents are encouraged to attend together!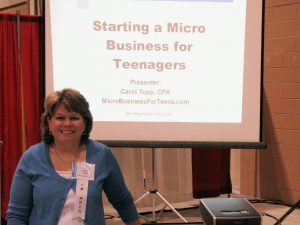 In my workshops, I always try to leave time for questions, and you're welcome to come back to Booth 1118 to ask more questions, sit for a while, and see what resources I have for teenage micro business owners!

Hope to see some of you there!