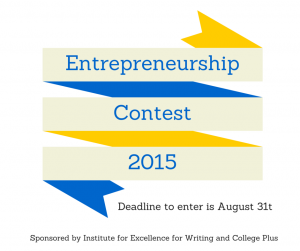 Institute for Excellence in Writing (IEW) and College Plus are sponsoring an entrepreneurship contest this summer.
Prizes include CASH (!), consultation on marketing, college class in entrepreneurship and a college scholarship.
To participate, students need to do the following:
Create and implement a business plan. (The contest is for new businesses only. The business cannot have been in existence prior to May 2015.)
Include visual aids: product, website if applicable.
Produce a video, 5 minutes or less in length. (See contest details for more information.)
Upload the completed video to YouTube or Vimeo, and send us the link by August 31, 2015.
Entries must be submitted by August 31, 2015. Winners will be announced at the IEW webinar on September 28th, 2015. Students who started a business shortly before the opening of the contest may still apply, but the staff at IEW will review each entry regarding eligibility.
Click here to download complete details of contest.
Have you started your business? Have questions? Need help? See our FAQ page.