Hi Carol,
My 13yo daughter just opened an Etsy shop to sell model horse tack. (Is that considered a micro business?)
I am going to order your micro business curriculum (Starting/Running/Workbook). Is tax info covered in the curriculum?
Good for your daughter and, yes, her Etsy store is a micro business! 🙂
You would probably benefit from the Money and Taxes in a Micro Business book because it discusses sales tax as well as income and self-employment tax.  The Money and Taxes in a Micro Business is not part of the 3 book curriculum you mentioned. It's the 4th book. Read more about Money and Taxes in a Micro Business here.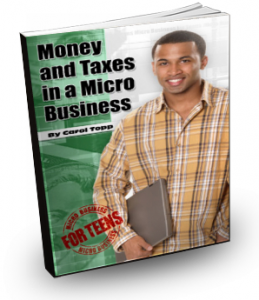 I read up on how Etsy handles sales tax. If you program in your state into your Etsy store, Etsy will add the sales tax to customers from that state. You do not have to collect sales tax from out of state customers. Here's a helpful explanation from Etsy:
https://www.etsy.com/storque/seller-handbook/tax-tips-everything-you-need-to-know-about-sales-tax-10963/
Fortunately, Etsy's new Checkout process gives sellers a one-time, simple way to calculate and set up their sales tax collection down to the zip code. Just go to Sales Tax under Your Etsy and enter the rates for each U.S. state or zip code, Canadian province, or country where you would like to charge sales tax. When a shopper from that area buys from you, sales tax will automatically be charged. Find step-by-step instructions on setting up your Etsy sales tax collection in the Help section.
Your daughter will  have to add up the sales tax each quarter (or half year) and send in the sales tax collected to her state. From Etsy's website:
It is your responsibility as an Etsy shop owner to report and remit the sales tax you've collected to the appropriate taxing authority. And every state collects in a different way. For instance, in California, state sales taxes are collected by the State Board of Equalization, which also issues mandatory sellers permits (required for sellers who sell tangible goods, such as Etsy sellers). To find out who administers sales tax in your state — and what you need to do to stay legal – find your state guide at Outright.
Sales tax can get complicated, but Etsy makes it pretty easy. Your daughter will learn a lot about taxes, setting her price, dealing with her state sales tax division and being responsible for sending in her sales tax payments! You'll be very proud of her!