From a reviewer on Amazon.com: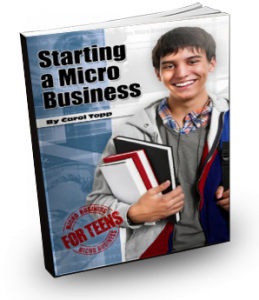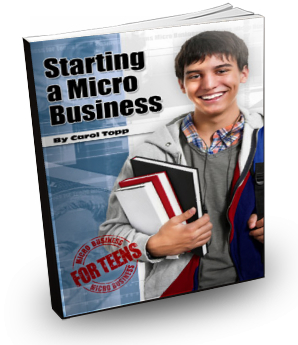 I enjoyed Starting a Micro Business – from the Micro Business for Teens book series. The book was informative and no doubt a godsend to teens and mothers and fathers of teens as it was a great tool to get a teen started in a business of any kind.
In the Introduction the author Carol Topp explained the reason she wrote the book, "This book is geared toward teenagers and their lives. There are no unrealistic expectations of opening a restaurant. There are ideas of businesses that real teenagers have started and run successfully. I provide a lot of examples of teenagers I know personally. I walk you through some very important topics such as making a plan and avoiding debt. That's how this book is different!"
The author is a CPA thus she has the knowledge and ability to offer her readers practical advice about becoming a micro business owner. I found the definition of a micro business as opposed to an entrepreneurship interesting. The Micro Businesses Are Popular statistics (page 13) was quite surprising.
Examples of teens running micro businesses inspired me to be better focused on my own micro business (which I had not referred to as such until reading this book)! I need to get Dave's phone number (page 31) as I could also use a bit of help with my iTunes/Ipod Smart List. Examples of micro businesses a teen can pursue were very helpful. I appreciated […], […], […] and so many more.
The Business Plan charts presented a treasure chest of guidance for a person of any age to utilize when planning to start a business. So many businesses fail for lack of planning. This non-intimidating resource was so helpful in considering the foundation for a business of any size. Thedown to earth format allowed me to realize planning a micro business for a teen may be easier than anticipated.
I appreciated Scripture verses along with secular sayings. The subtle backdrop was the Bible and also the author repeatedly reminded the teen to speak with his/her parents about what they learned from reading the book. Ms. Topp's offer of accounting advice if the reader did not yet have an accountant made me smile. She came alongside her reader throughout the book with encouragement and promoted a "can do" mantra.
Finally a book available for teens somewhere in between a lemonade stand and a storefront. No doubt the entire series will be a welcome resource if it also teaches, exhorts and encourages youth as did Starting a Micro Business. Every teen parent would benefit from reading Starting a Micro Business. I enjoyed it immensely and hope to read more of the Micro Business for Teens book series soon.
Don't let anyone think less of you because you are young. Be an example to all believers in what you say, in the way you live, in your love, your faith, and your purity. 1 Timothy 4:12
Disclosure of Material Connection: I received this book free from Kathy Carlton Willis Communications as part of their book review bloggers program. I was not required to write a positive review. The opinions I have expressed are my own. I am disclosing this in accordance with the Federal Trade Commission's 16 CFR, Part 255 : "Guides Concerning the Use of Endorsements and Testimonials in Advertising."
5.0 out of 5 stars Excellent Book for Teens!!, June 27, 2011