Starting a micro business today is easier than ever, thanks to the folks at the Network for Teaching Entrepreneurship. They created a neat website solely equipped to help you become an entrepreneur, much like Micro Business for Teens! Jump on over to MakeYourJob.org. The website functions like a virtual board game, each step leading you closer to the prize of a business! It provides easy ways to discover your interests, create a business plan, develop marketing strategies, crucial financial tips, and much more. And on top of that, MakeYourJob offers worksheets and success stories to get those creative juices flowing.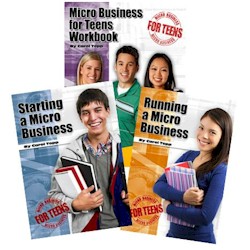 With summer here, what better way to spend it than starting and running a successful micro business?
This great resource, coupled with my book series, Micro Business for Teens, will put any teen dreaming of a micro business on the path to success! Who knows? You just might be able to "make" your own job this summer!
Carol Topp, CPA