10 Micro Tips for Micro Businesses
Countdown to Starting a Micro Business ebook launch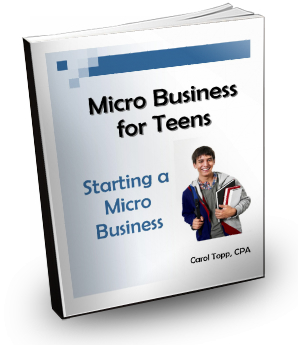 Day 10: Starting a Micro Business ebook by Carol Topp, CPA is now available for purchase!
Today's tip: Learn a Lot
You go into business to make money, but wouldn't it be great if your business also had other benefits?
What if you learned so much, you decided to launch another, larger business?
What if you found your future career by running a micro business?
Or what if you learned what you definitely do not want to do for a career? What would that be worth to you?
Starting a micro business can be a huge learning experience, without paying tuition.
Here's a few things you might learn:
time management
customer serve
how to overcome shyness
bookkeeping to track your income and expenses
how to express yourself
confidence
marketing
Meghan taught violin lessons to children when she was a teenager. She loved playing violin and enjoyed teaching so much that she decided to study violin in college. Running her micro business helped her find her future career.
What would you like to learn? ____________________
In what areas of your life do you need to grow?_____________________
Get started on learning more today by purchasing your copy of Starting a Micro Business.
For one week only until  May 10, 2010, I will be offering a special bundle package. For the price of the ebook, $9.95, you will also receive a copy of my Teens and Taxes: A Guide for Parents and Teenagers ebook and my audio Starting a Micro Business. This offer is only good for one week. It expires Monday May 10.

Carol Topp, CPA
https://MicroBusinessForTeens.com