10 Micro Tips for Micro Businesses
Countdown to Starting a Micro Business ebook launch
Day 7: 3 days until the release of Starting a Micro Business ebook by Carol Topp, CPA
on
Saturday, May 1, 2010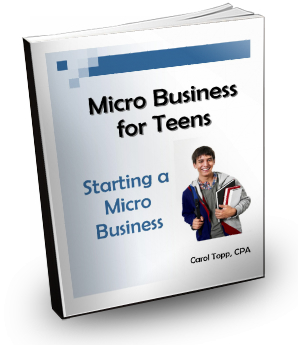 As we count down to the launch of Starting a Micro Business, I am going to share tips on starting a micro business.
Today's tip: Use what you own
Some micro businesses can be launched without any start up expenses at all. You can often use the equipment and tools you (or your family) already own. Things like:
a piano or guitar to teach lessons
a stove and oven to cook food
a vacuum cleaner and mop to clean houses
your two feet to walk dogs
your babysitting training to do childcare
your computer to do web design
Be sure to visit MicroBusinessForTeens.com on Saturday, May 1, 2010 to order your copy of Starting a Micro Business.
For one week, May 3-10, 2010, I will be offering a special bundle package. For the price of the ebook , $9.95, you will also receive a copy of my Teens and Taxes: A Guide for Parents and Teenagers ebook and my audio Starting a Micro Business. This offer is only good for one week. It expires Monday May 10.
Carol Topp, CPA
https://MicroBusinessForTeens.com