Eight years ago, David Stelzi, age 10 at the time, begun a micro business selling foot boards (or "Wedges") to local therapists.
The business began when David's mom had an appointment with a local therapist. She saw that the therapist was selling platforms that supported your angles. These platforms were made out of wood but the craftsmanship wasn't very good. So she asked the therapist if her son could try making the platforms and sell them instead. The therapist agreed to give David a trial run.
Now right years later, David is selling to multiple local therapists in the Charlotte area. He started printing brochures and putting them in local athletic stores. He also has begun to take direct orders from customers.
Read more of David's story.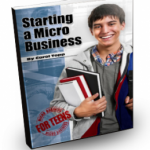 If you have an idea, like David did, to start a micro business, but need help understanding how to start one. You should check out my book, "Starting a Micro Business".
Carol Topp, CPA