Sometimes, an idea for a micro business can come upon you when you least expect it. This happened for Canadian teen Lizzie Wright while she was walking home one summer. She noticed a woman struggling with her grocery bags and realized that there were people in her community that could use a helping hand. Lizzie dreamed up a micro business that would offer a service to her neighbors, a personal shopping business called The Bag Lady. Her micro business aids clients in their daily errands by shopping, purchasing, and delivering needed items. To start, Lizzie applied for a grant through the Ontario Summer Company Program. Lizzie has started to pick up clients in her home town of Angus, but is interested in expanding to nearby towns. She only charges her clients a small percentage of the total bill. But even with her increase in business, it has never been in the forefront of her mind: "I'd rather help the community than make all this money." What a great way to combine community service and a micro business!
Courtesy of Simcoe.com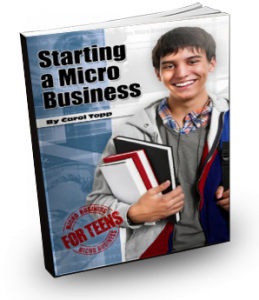 Do you have a passion for serving your community? Follow in Lizzie's footsteps! There are many ways you can help your neighbors and run a successful micro business. Think along the lines of babysitting, personal shopping, home cleaning, or yard work at a reduced rate. There is still plenty of business to be found, and a serving heart will go a long way with your clients! For more tips, flip through the pages of my book, Starting a Micro Business.
Carol Topp, CPA