Are you looking to start a micro business quickly (maybe even over the summer)? Your best bet is to start a service-based business. A service-based business has many benefits over a product-based business.
A Product-based Business Requires Inventory
It's true! In order to sell a product, you have to have the inventory (the product) in stock and available to sell. This means that no only do you have to spend your time creating the product, you also have to spend money on buying the stock to make the product.
Sell What's Between Your Head Instead
The solution to this problem is simple, start a service-based business instead! Sell the knowledge you have whether it's as simple as mowing the lawn or as complex as developing mobile apps for small businesses. Watch below as I further explain the benefits of a service-based business:
Get a free report!
Sign up for my newsletter and I will send you my report, New Biz on the Block: Starting a Micro Business in Your Neighborhood.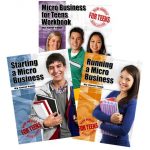 For more information about how to start your own micro business and how you can create a Mini Market Survey of your very own, check out my series of books, Micro Business For Teens, available at: MicroBusinessForTeens.com, Amazon.com, and other retailers listed here.
Carol Topp, CPA