Are you wanting to start a micro business, but aren't sure whether to start a product based business or a service based one? In the video below, I explain the differences between the two.
The biggest reason you might want to consider a service based business over a product based one is because they are easier to support and much more manageable.
As I explain below, product based businesses can be very successful, sometimes too successful. This can lead to a major problem, keeping a stock of inventory.
Watch the video below as I discuss to a group of parents and teens at the Cincinnati Home School convention, the differences between service based businesses and product based businesses: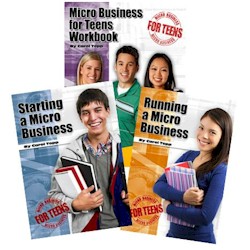 Have you ever had a great idea and thought about starting a micro business? If so, you should check out my book series, Micro Business for Teens. In my books, you'll gain valuable insight for starting a micro business.
A micro business is a small, simple and fast to start-up, sole-proprietor business that usually consists of one worker, the owner. Micro Businesses are usually low-risk and easy enough for a teenager to manage along with schoolwork and other extracurricular activities.
Check out my books today and start your own micro business for success! Available for purchase on Amazon, Amazon Kindle, Createspace, and as a PDF eBook on my website.
Carol Topp CPA