Phil and his best friend, John, verbally agreed to start website as a partnership and split everything 50/50. The business really took off and was generating over $1,000 a month in income from Google ads.
John's father saw how successful the business had become and claimed the business was solely John's business and not a partnership. Phil ended up discussing the matter with an attorney and eventually walked away from the business, but he gained a lot of wisdom and caution. He and John are no longer best friends, as you can imagine.
Later, Phil started his own micro business as a sole proprietorship, wiser and phenomenally successful
Learn more by watching his story as I presented it at a recent convention: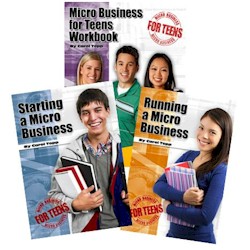 Have you ever had a great idea and thought about starting a micro business? If so, you should check out my book series, Micro Business for Teens. In my books, you'll gain valuable insight for starting a micro business.
A micro business is a small, simple and fast to start up, sole-proprietor business that usually consists of one worker, the owner. Micro Businesses are usually low-risk and easy enough for a teenager to manage along with schoolwork and other extracurricular activities.
Check out my books today and start your own micro business for success! Available for purchase on Amazon, Amazon Kindle, Createspace, and as a PDF eBook on my website.
Carol Topp CPA