For the next 2 days Money and Taxes in a Micro Business will be available as a free Kindle ebook.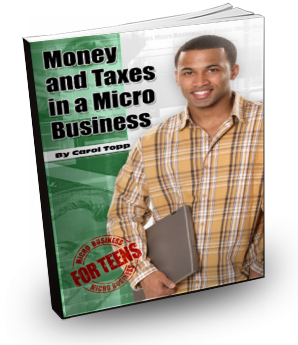 Get your free ebook here
No Kindle? No problem! Read the book on your computer, phone or tablet.
Money and Taxes in a Micro Business is part of the Micro Business for Teens series. In it you will learn
-How to measure your success
-Ways to increase your profits
-Manage your cash flow
-What taxes you might owe
-How to reduce your taxes
-How sales tax works
-What to do about hiring employees
-How to work with an accountant
 "I believe that Carol Topp's book is a great resource to help a teenager to learn about business and to ultimately start their own business. I found this book to be a quick read yet it is still very thorough. I strongly recommend this book and its very practical, doable approach to any aspiring young entrepreneur.
-Michael P. Licata, Ph.D,Accounting Professor Villanova University
Available for free January 30-February 1, 2013 here
Please forward this to your friends.
I hope you enjoy the book!
Carol Topp, CPA
Author Money and Taxes in a Micro Business