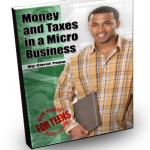 I've lowered the price on my ebook Money and Taxes in a Micro Business.
from $7.95 down to $4.95
This price decrease is for the ebook version.
You can order a paperback version here
In addition I enrolled the book in the Kindle Select program so it will only be available in Kindle format for a few months.
But, you can read Kindle books with out a Kindle.
Grab the Kindle reader for PCs
And look for 5 days when the book will be available for free!
I'll announce the free days:
Carol Topp, CPA