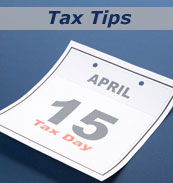 Kenneth over at Teen Business Forum asked,
My name is Kenneth and at the moment I am a freshman in college. As you probably already know, tax season is here! I do plan on filing them soon, but I was wondering what tips and tricks I could do to increase the amount of the refund.
Kenneth,
Tips: Read all you can about tax deductions. My blogs at https://TeensAndTaxes.com and https://TaxesForWriters.com are a good place to start.
Buy my ebook Teens and Taxes at https://TeensAndTaxes.com. The $3 cost is a business deduction!
Keep good records. Consider using accounting software like Quickbooks, Outright.com, Freshbooks.com or Wave accounting.
Tricks: Keep track of mileage. It's a bigger deduction than just gas.
If you travel out of town you can deduct a per diem amount for meals that is higher than actual meal expenses (unless you're a really big eater!).
The standard rate of $46/day for meals is set by the General Service Administration which has higher per diem rate for high-cost cities. On the day of traveling to and from home, you can only deduct 75% of the per diem rate, but it still adds up.
For a trip to Orlando (with a per diem rate for meals of $56/day) my per diem totaled $196, a lot higher than my actual expenses of $94.97.
Hope that helps.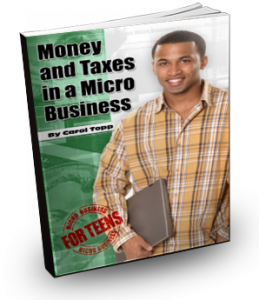 Money and Taxes in a Micro Business has several chapters devoted to federal , state and sales tax. There's quite a bit to learn about taxes, but this book is written in clear English so a teenager easily can understand taxes in running a micro business.
Carol Topp, CPA