I was interviewed by Kay Bell of Bankrate.com for her article "Teen jobs and tax issues."
Kay did a great job explaining taxes for teenagers:

Teen jobs and Tax Issues
By Kay Bell • Bankrate.com
Highlights
* Teens who earn less than $5,800 (in 2011) may not have to withhold tax money.
* But self-employed teens or contractors likely have to pay SE taxes.
* Some teen jobs are exempt from SE taxes, like babysitting, lawn mowing.
A  job is a classic rite of passage for teenagers. But teen jobs can be a source of aggravation for young workers and their parents who aren't prepared to deal with the potential taxes.
When it comes to income, the IRS generally wants its cut regardless of the earner's age. But some special tax rules apply to young workers, based not only on age, but also on amount of money earned and even the type of job.
First, the good news: The teen worker might not owe the IRS a dime.
A youngster who is a dependent of another taxpayer generally doesn't have to file an income tax return unless the youth makes more than the standard deduction amount for a single filer. For 2011 returns, that's $5,800.
If a young person doesn't expect to earn more than the threshold amount, he or she needs to note line 7 when filling out a W-4. That's where the teen might be able to claim exemption from federal income tax withholding.
In fact, novice workers should pay close attention to all employment paperwork. It could dramatically affect their tax responsibilities.
"Sometimes teens go out and work as technical employees, but are paid as contractors," says Sharon Lechter, a CPA in Paradise Valley, Ariz., and member of the President's Advisory Council on Financial Literacy. "So make sure the employer classifies you correctly."
Pushing the worker categorization boundaries is appealing to some companies who then don't have to deal with various tax withholdings and potential employee benefit payments. And young workers looking to pocket as much cash as possible each payday might think such an arrangement advantageous, too.
But being a contractor poses new, and costly, tax concerns.
Contractor Tax Complications
If paid as a contractor, which means earnings are reported to the worker and the IRS on a Form 1099-MISC rather than a W-2, the youth is for tax purposes self-employed.
That designation means that even if the young worker doesn't earn enough to owe federal income taxes, he or she could owe Uncle Sam self-employment, or SE, taxes.
This is the 15.3 percent tax on earnings that is the self-employed equivalent to Social Security and Medicare payroll taxes withheld from employees' checks and usually noted as FICA on pay stubs. That tax is required when any self-employed worker's net earnings exceed $400.
"There is no special tax treatment for teenagers running their own business," says Carol Topp, a Cincinnati CPA who is also the founder of TeensAndTaxes.com. "If you make a profit of more than $400, you must pay self-employment tax."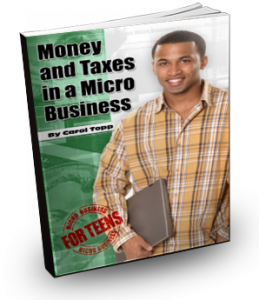 The rest of the article continues here.
Looking for a way to explain taxes to teenagers further? Take a look at my book, Money and Taxes in a Micro Business, for clear, easy to understand tips for dealing with taxes in a teen's micro business.
Carol Topp, CPA