A new week brings us a new teen micro business owner. This teen is crafting handmade products  and providing fantastic service to his customers, a recipe that ensures micro business success!
Who is this business owner? It is teen Noah Prail, running a woodworking micro business by the name of Carpenter's Workshop. Let's see what Noah is up to.
Hello, Noah! Welcome to Micro Business for Teens. To get a feel for your business, could you tell us what it is and how it has been in operation?
My business is called Carpenter's Workshop. I sell birdhouses and toy guns that I build myself. I started my business around three years ago when I was eight years old.
Now, that is impressive! Why did you choose to start a micro business so young?
I started my micro business to make extra money and for something to do. I made business cards and a website with my dad's help. After passing out the business cards at church, someone gave me plans and offered to pay me to build a birdhouse for her. That was all the encouragement I needed to get me excited about a business.
Has there been anything challenging about crafting your products?
Building bat houses is a big challenge, as they are big and difficult to build, so I have decided to discontinue making them.
Noah, is there any advice you could give to fellow teens looking to start a micro business?
Make sure that people like your products and buy a lot of them. For example, the bat house was not selling many, so I discontinued making them. I only sold three of them in the three years of my business. Make sure you have a useful and quality product or service. Custom made items are very good because people can choose what they want, so they are more likely to buy them.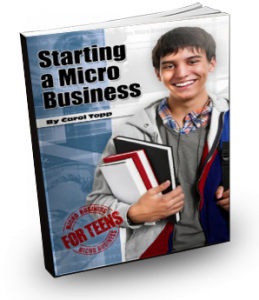 Thanks for being here, Noah! Your micro business is an encouragement to teens everywhere. Did you notice that Noah had to discontinue one of his items because there was not enough demand? This is a great example of some tough decisions you may have to make as a micro business owner. But that doesn't have to stop you! Instead, Noah focused on his birdhouses, which are very popular. If you want to sell a product, do some research to see if it is needed where you live. That simple step will ensure that your micro business will be successful. Need more help getting started? Take a look at my book, Starting a Micro Business, today!
Carol Topp, CPA