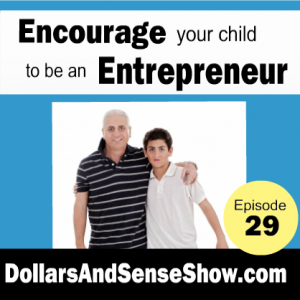 Are you hoping to raise an entrepreneur?
Maybe your child is full of ideas to make money.
You'll enjoying meeting 3 parents of teen entrepreneurs in this episode of the Dollars and Sense podcast.
In this podcast, 3 parents, Bob, Suzanne and Jennifer, shared their experiences of how they encouraged their entrepreneurial teenagers. They discussed:
Their role as a parent
How to school work fit into their students' lives?
What was most difficult for their child?
When should a parent step in?
How do you encourage entrepreneurship?
Some of their advice:
Don't let school get in the way of your eduction (paraphrasing Mark Twain)
Arrange to get schoolwork done first. Balance schedule and manage time.
HALT-Never get too Hungry, Angry, Lonely, or Tired
Encourage, knock down obstacles.
Work with school to make changes in start time.
Find resources, field ideas with your student
Encourage. Recognize milestones and achievements. Get advisers.
If you have a teenager who want to make money check out the Micro Business for Teens books and videos.
If you enjoyed this podcast, please leave a review on iTunes. (click on View in iTunes to leave a review)