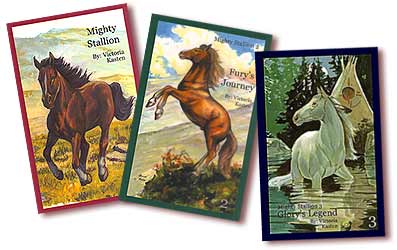 I have met a lot of teenage horse lovers that have created a micro business related to their horse passion:
Libby offers riding lessons to children on her family farm (Check with your parents and an insurance agent before starting this)
Abby sells custom made saddle pads to horse lovers at horse shows and to people she knows from 4-H.  She leaves a sample fabric swatches at her local stables, so customers can pick a favorite design.
Victoria Kasten was only eight when she started writing novels that featured horses. She has now written more than 9 books.  The books covers above are Victoria's books. See her books at https://www.epicscrolls.com/
Heather gave my 10-year old, horse-loving daughter six riding lessons one the summer. Sarah learned how to groom a horse and muck out a stall too!
Jessica set up a website devoted to horses, Learn About Horses, and gathers income from the ads placed there. See her work at: https://www.learn-about-horses.com/index.html
Let your interest in horses make you some cash!  Start a micro bsuiness related to horses.