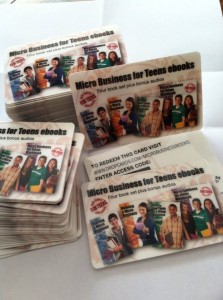 I will be selling Micro Business for Teens electronic books using this card when I speak at homeschool conferences this spring.
(I'll be in Greenville, SC, Indianapolis, Cincinnati and Ontario, CA this spring. Hope to meet some of you!)
The purchaser buys a card and on the back is a website and access code.
They can then download the ebook in their choice of formats (pdf, mobi or epub). In my case I'm selling all 4 Micro Business for Teens ebooks and then adding 3 audio (mp3) files as a bonus.
Pretty neat way to sell an ebook! If you have written an ebook  or recorded music and want to sell it when you meet customers face-to-face, consider using a card like this.
The cards are available at Dropcards.com
Carol Topp, CPA