Listen to this great idea.
Mitchell started a coupon and money saving blog at only the age of 15! He is one of the few young bloggers out there to do this.
Mitchell started the blog, Frugal Finders, in September of 2009 to share his love of money saving. The blog's goal is to help others live better, spend less, and save more. Mitchell updates the blog daily with in-store deals, online deals, freebies, and more.
The blog has grown exponentially and it's Facebook page has almost 18,000 likes. The blog also has been given the honored title of, "2012 Savings.com DealPro".
Besides blogging on "Frugal Finders", Mitchell also teaches grocery savings workshops through the Savings National program.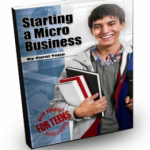 If you feel inspired by Mitchell's story and are thinking about starting a coupon blog, or even something unique like selling Eggs. You should check out my book, "Starting a Micro Business". I provide tons of tips for setting up your micro business for success.
Carol Topp, CPA