This is a cool idea!
Tom, who is 19 years old, just recently opened a furniture store called, Sandygate Furniture Store. The store features restored furniture that Tom has purchased from an auction. Tom restores each piece with his special finishes, then he sells them at his store.
Tom says all of his knowledge of furniture restoration has either been self- taught through online classes or by speaking to other experts.
Originally, Tom was thinking about going to college. After pondering the idea, he decided not to pursue college at this time. He didn't want to didn't want to attend college just to rack up student loans that wouldn't guarantee a definite job when he graduated. So instead, he decided that he would try to use his trade of furniture restoration to open a business. Tom says he is in control of his destiny now.
Source: BurnleyExpress.net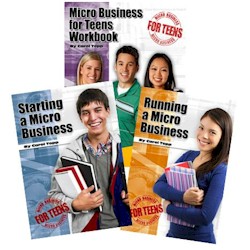 If you have a knack for restoring furniture, you too should start a Micro Business. It doesn't have to be a store like Tom's, instead you could start by selling on eBay or Craigslist. But before you start, you should check out my series, Micro Business for Teens, as I provide great, helpful, information for setting you business up for success.
Carol Topp, CPA