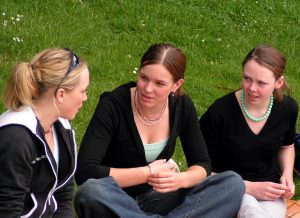 Here's a neat story about a group of teenagers and their adult mentor who decided to learn how to run a business.
Learning in a group setting is a great idea. Why not try something like this among your friends?
http://www.teenbusinesscentral.com/about/
We are a group of teens and one adult from Bonham, Texas.  We met at church and during a book club.  We started talking about making money and the adult decided that we should do something about it.

We talked about how to make money online and the adult (his name is Lyle, by the way) said we should take this 'journey' together.  He said that he loves teaching teens and there is not a lot out there for teens who really want to do something with business.  He even pointed out that the Bible has a lot to say about business and finance.  That figures, since he is a youth minister.

We started in November 2009.  Each of us will have a blog (see blogrolls to left) where we will each have our own voice and here in the middle the best of business and money will rise to the top just for you.
These kids have been adding a lot to their site.  Take some time and look around.  You will learn what they are learning!