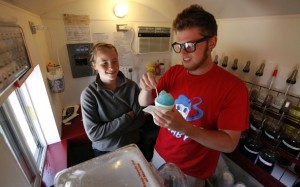 Isn't this a wonderful way to beat the heat? Opening a Snowball Stand!
Teenager Carolyn Estes, age 17, and Johnathan Dilley opened a Snowball stand which they call, "Ice Ice Baby Sno Ball", in May 2012. Originally it was opened as a way for Carolyn to raise money for volleyball, as a part-time job wouldn't fit into her busy schedule. Not only is the snowball stand a way for Carolyn to raise money for her sports activities, but she also brings the stand to different school fundraisers and vacation Bible school events.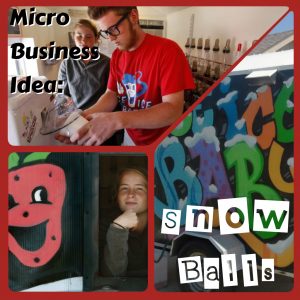 The snowball stand is open for business every Saturday at the Norman Farmers Market, but Carolyn's goal is to move it to a parking lot for a more permanent location. This would allow her to keep the snowball stand open all week.
Ice Ice Baby provides it's customers with 47 different hand-mixed flavors to choose from. The flavor chosen is then poured overtop of the customer's snowball. Carolyn points out that their Ice Ice Baby snowball is distinctivly different than a normal snow cone. While snow cones are made with crushed ice, Ice Ice Baby Snowballs are made with smooth shaved ice.
Carolyn's mother, Judy Estes, mentioned how it wasn't an easy journey setting up the snowball stand. There was a lot of permit and licensing paperwork to go through. But finally after about 6 weeks, the Snowball stand was open for business. It wasn't easy, but it was worth all the hard work. Source: NewsOk.
Do you have an idea to open a snowball stand like Carolyn? Or maybe you have an idea to open an ice cream shop like in the case of Jenny Carey and Mike Gombita. If so, then you should check out my series of books, Micro Business for Teens. In my books, I teach teenagers how they can start a micro business so they can earn some money on the side, but without infering with their other sports or school activities. You should check them out, they're avalible in Paperback or on Kindle.
Carol Topp, CPA