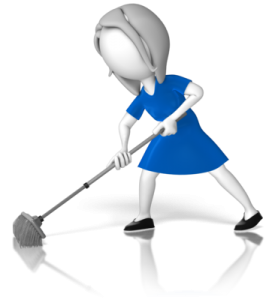 Most people see spring as a time to declutter, clean out, and recycle our unneeded stuff—but it is also a great opportunity for a teenager to make some money.
There are several micro businesses a teenager can start by helping people with spring cleaning.
A micro business is a one-person business that can be started easily, usually without any up-front cash, using equipment that a teenager already owns. Micro businesses are usually very flexible so a busy student can keep up with homework, sports, and a social life while still earning some extra money. They may be temporary, only lasting a few weeks. On top of that, micro businesses are easy to start and easy to close down.
Here are some ideas for a micro business a teenager can start this spring:
House cleaning:

Offer to tackle large jobs like washing windows, moving furniture, etc. Many people are grateful for a young, strong teenager to help them with heavy lifting. What is easy for you might be very difficult for them, especially if they are an older person.

Routine house cleaning:

Some customers need regular house cleaning and may hire you on a weekly or monthly basis. Don't wait for them to ask: offer to come weekly or twice a month and see what they say.

Attic cleaning:

Offer to help people do a job that they put off, such as cleaning an attic.

Garage cleaning:

A big job that can earn you big bucks!

Yard cleanup:

Offer to trim bushes, pull weeds, plant flowers and spread mulch to spruce up a yard.

Car and van cleaning:

People spend a lot of time in their automobiles and their cars and vans need frequent cleaning. Melissa gladly paid to get her van cleaned inside and out every week because her four children could really make a mess in it. You can make some cash by offering to clean a van inside and out.

Organize:

Organize a house, playroom or garage. Charge the customer for any bins, tubs and labels that you purchase for them and then add on the value of your time. Take before and after photos to use on your advertising fliers.

Declutter:

Do you love HGTV shows on organization? You might be able to find someone to hire you to declutter their house like you see on TV.

Garage sales:

Advertise, organize and run a garage sale for your neighbors. Get several neighbors to participate together and really earn the bucks!

eBay sales:

Offer to sell your neighbors' stuff on eBay and take a cut for yourself. Combine the decluttering, garage sale and eBay tasks into a full package to help your customers profit from their excess stuff.
Do not be too hasty to reject some of these ideas. No one likes any job that has the word "cleaning" in it, but you will not be doing it for the rest of your life. A micro business based on spring cleaning does not have to last long—a lot of money can be earned in a few weeks. It may take a bit of planning to be ready to work when the first signs of spring start.
TIPS TO GET STARTED:
Choose what you will offer: cleaning, decluttering, full packages, etc.
Who will be your customers? Think of places that people gather and see them as potential customers. Focus on your neighborhood, your church, or families from your sports team. Make a list of neighbors, friends, teachers, your parents' friends, etc.
Conduct a market survey. Start by asking a few potential customers if they need your service and what price they are willing to pay.
Decide on a price. From the market survey, you should be able to set a fair price. You may get your first customers by undercharging the competition. One teenager charged half what other house cleaners were paid and quickly had several customers.
Volunteer to do a few jobs for free to practice your skills and to build a reputation. Use recommendations from these jobs in your advertising.
Launch your first advertising campaign. Try to use free advertising such as emails, on-line forums, Facebook posts, and handing out fliers to friends and neighbors. Be sure to include several ways to contact you, including email and phone numbers.
Many people are very happy to hire teenagers for spring cleaning jobs. Start advertising your micro business services now and be ready when spring arrives.
My book Starting a Micro Business will be a big help.
Carol Topp, CPA is the author of the Micro Business for Teens books.
Save
Save