Watch as Rachel Coker, a teenage author and micro business owner, explains the length of time it takes her write her novels. She discusses her process and the difference in time that it took to write her first novel, vs writing her second and third.
Get a free report!
Sign up for my newsletter and I will send you my report, New Biz on the Block: Starting a Micro Business in Your Neighborhood.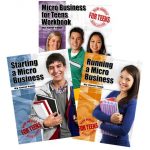 For more information about how to start your own micro business and how you can create a Mini Market Survey of your very own, check out my series of books, Micro Business For Teens, available at: MicroBusinessForTeens.com, Amazon.com, and other retailers listed here.
Carol Topp, CPA